The Who, The What, The Where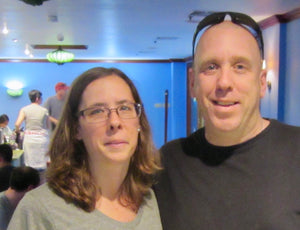 The Team
Family and careers brought both of us to North Carolina greater than 20 years ago, where we eventually met, became fast best friends and married.  We have lived in central North Carolina ever since, but the community and the spirit of its residents brought us to the small town of Pittsboro just a few years ago.  We live here in the same town where our coffee roasting business is located and are involved in the community as well as being strong believers in supporting local businesses who have the same entrepreneurial spirit we have and local causes that improve the lives of our neighbors.  Our days always begin with a great cup of coffee and easy conversation that truly becomes one of the better parts of the day.  We hope you too will include our coffees in becoming a regular part of your daily routine and hope to share a cup with you in the future.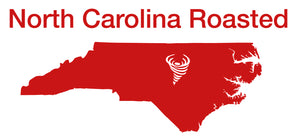 Locally Roasted
Our roastery can be found in the small town of Pittsboro, NC (located approximately 15 miles south of the town of Chapel Hill, NC and 30 miles west of the City of Raleigh).  We are privileged to work with coffee farmers and import teams from around the world and then humbled to roast and bring these extraordinary coffees to you through our cafe and retail partners or direct through our website.  The responsibility to insure that these coffee growing partners and their hard work at the genesis of our coffee production is what drives us day in and day out.  As roasters our efforts are a small part of the production chain and though we are the final step, we can only take credit for a small fraction of the end result.  We put people and the planet first, ethically sourced with attention to all the details, seed to cup.  Our goal is to bring you great coffees while showcasing the foundation of the labor and effort of those farmers, processors and producers that is so significant in the final product.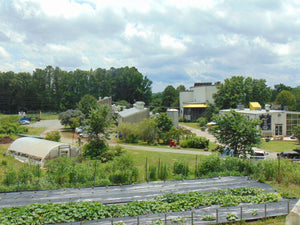 Our Facility
At 400 square feet, we nearly define micro-roastery. In that space we include our roasting equipment, packaging, quality assurance tools and business office fixtures and until recently this space also included our green bean storage. Our facility is efficient in its use of space with green bean storage minimized by a rotation of fresh green bean shipments arriving frequently and those beans quickly roasted and brought to our wholesale clients and shipped direct to our customers several times per week.  We are located inside The Plant campus in what is becoming known as The Chatham Beverage District in Pittsboro, NC.  The Plant is a repurposed, late cold war, metal alloy factory and grounds that now houses a distillery, a cidery, a meadery, a sustainable farm with an affiliated "farm to table" kitchen, a brewery, a natural fiber clothing company, CBD oriented businesses and outdoor activities including bicycle rental, axe throwing and hiking.
In regards to our Tempest Espresso Blend, "...This is going to be a staple espresso for me (I prefer a straight double shot most times), and it would also be a great base for a milk drink too with that chocolate sweetness but slight bit of brightness and sweet taste."

Jimm M., Granville, OH
"As a person who is very particular about the kind of coffee I drink, I would highly recommend Vortex Roasters. The Sumatran is absolutely delicious!"

Ashley P., Bear Creek, NC
I have been drinking whole bean coffee for 23 years. Vortex Roasters is easily the smoothest roast I have ever had. I now wake up anticipating the smooth flavor of a hot mug of Sumatran or S-I-P every morning to start my day. It's a wonderful way to start the day!

Frank O., Asheville, NC
Coffee Brewing Guides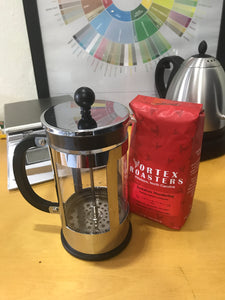 French Press
Water to coffee ratio by weight: 16 to 1
Grind:  medium coarse (unground sea salt)
Pour nearly boiling water (195-205) over grounds in the bottom of the French Press. Stir very gently just to ensure all grounds are wet.  Place cap with plunger in up position on French Press.  After 3 minutes gently press the plunger/strainer to the bottom of the press and immediately drink your favorite coffee.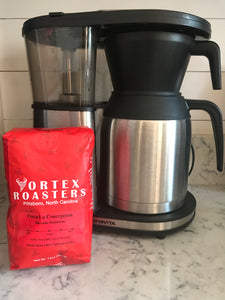 Drip Coffee Brewer
Water to coffee ratio: 16 to 1
Grind: medium 
*Note that the volume markings on coffee pots and brewers can be grossly inaccurate, double check with actual measurements to verify.  Most important here is the grind size and ratios.  Using a scale is best practice but in a pinch, 2 level tablespoons or one coffee scoop is 10 grams (per 160mls or 5 ounces or water).  Be mindful to find the perfect grind for your brewer.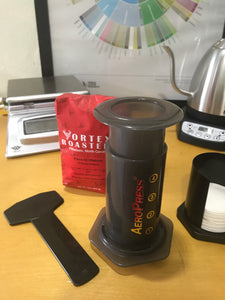 Inverted Aeropress (AmAEROcano)
Water to coffee ratio: 150g to 30g
Grind: medium fine (finer than sand, not powder
Pre-wet your paper filter, place it in the grid cap. Add 30g of coffee to your AeroPress resting on bottom of plunger.  Pour 150g of nearly boiling water in 15 seconds.  Stir for 20 seconds.  Put the filter cap on.  After 2 minutes, flip the AeroPress onto your mug & press plunger over 30 seconds.  Finish up your brew with 160-200g with hot water (to your personal taste).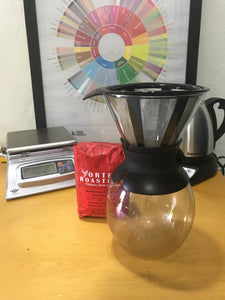 Pour-Over (Chemex/Hario/Kalita/etc)
Water to coffee ratio: 16 to 1
Grind: medium (but experiment)
There are numerous styles of pour over vessels, each with pros and cons that will affect your process. Rinsing the filter prior to adding grounds is a big benefit to improving flavors.  The generic method is evenly pouring just 10% or so of your hot water on the evened grounds in your filter sitting within the Pour Over accessory.  After 30 seconds begin pouring the water again over the ground/slurry using even concentric circles until you have hit your target ratio.  Allow to drip through.  Enjoy.
Cold Brew Concentrate
Water to coffee ratio: 5 to 1
Grind: medium coarse
The unique thing about making coffee without hot water is that it significantly decreases the acidity in the final product (which will change the flavor profile somewhat).  The 5:1 ratio will create a concentrated cold brew coffee that is typical diluted one part concentrate to one part water for serving.  Coffee can be placed in a tied cheese cloth sack, a nut milk bag, commercial infuser inserts (as pictured) or free in the container.  Allow to steep for up to 18 hours (longer times may produce grassy or woody flavors), then remove the beans from the coffee.  Straining the concentrate through a filter will remove nearly all the particulate and stray grounds.  Refrigerate after steeping and it will last 5-7 days (if you don't drink it!).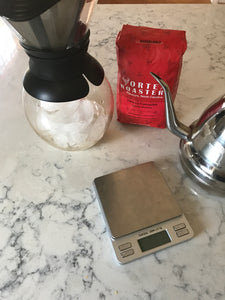 Iced Coffee or Flash Brew
Water to ice to coffee ratio: 10 to 5 to 1
Grind: Specific to your brewing method
Flash brewing retains many of the flavors of the same coffee if brewed hot.  It will impart some of the more acidic qualities of the coffee that require higher heat to dissolve into solution that Cold Brewing methods will not (and that is both the argument for and against).  Flash brewing is as simple as brewing coffee in a standard way (Pour Over, Drip Brewed, French Press, etc), then pouring over ice to "flash chill" the beverage.  Ratios require the addition of ice as a portion of the total liquid volume.  Brewing by a Pour Over method and having the coffee drip onto the ice as it brews it a great practice.  **Be mindful that your container, mug or glass is not heat sensitive to these extremes!**