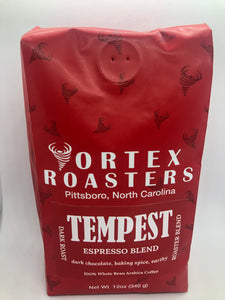 Our espresso blend is an excellent mix of sweetness and bitter chocolate notes up front with syrupy mouthfeel in a standard well timed shot.  Our blend showcases the notes of our medium dark roasted Sumatra Mandheling with a seasonal lighter roasted Central American high elevation bean that creates a well balanced, easy to work with and predict fusion.
With a nod to old world espresso, this blend includes approximately 10% Monsoon Malabar coffee beans, traditionally included for its delicate but heavy bodied musty, baking spice and chocolate flavors.
Besides espresso, we also recommend this blend for Aeropress users using an appropriate grind for a great robust cup that is rich and fulfilling as a dense small volume shot or mixed with water for an Aeropress style Americano.