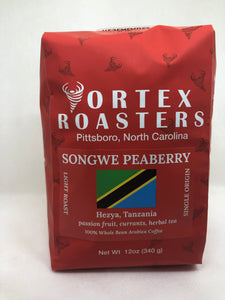 On the slopes of Mount Kilimanjaro and Mount Meru, two ancient volcanoes that form a physical border between Kenya to the north and this Tanzanian region renowned for its highlands agriculture, the mineral rich soil provides for some of the best terroir for growing coffee.  With the accompanying weather just south of the equator provides those hot sunny days for part of the day and dry cool nights that make for dense coffees similar to those grown in Ethiopia.  
Peaberries are a coffee bean size found occasionally in high grown coffee beans where a single small round cherry develops instead of the typical two "hemispheres" of more frequently seen larger beans.  Tanzanian coffee is known for this mutation due to it very pleasant difference in flavor profiles, though Tanzania also grows some excellent non-peaberry coffees also. 
In the cup, wonderful tropical fruits are noted throughout with mild verdant flavors that are reminiscent of natural herbal teas. Very clean on the palate We found that roasting this to a light/medium light roast bring out all the nuanced flavors while not overwhelming those bright tropical notes with unbalanced flavors.  The delicate clean finish of this coffee is with fully bright citrus flavors of lemon and orange peel with a slight dry wine-like sustained taste.
 Single Origin: Mbozi District in Songwe, Tanzania
 Roast: Light to Medium Light
Process: Washed, Parchment Dried
Varietal: Nyara/Typica (Peaberry sorted)
Elevation: 1400 – 1500 meters
Grown as single origin, strictly high grown, European preparation (hand sorted) 
Imported Under Fair Practice Standards and Price.