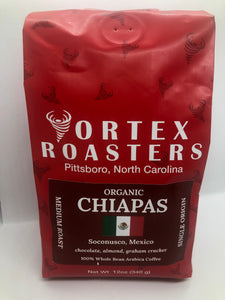 The Chiapas region of Mexico, bordering Guatemala in the rich fertile volcanic soils of the southern highlands, has long been associated with great coffees.  The climate with its abundant rainfall, significant sunny days and an environment that allows for a coffee crop to be grown at least in part in a shade grown environment under a rainforest canopy contributes to its distinctive profile.   It is indicative of those classic traditional Chiapas flavors but adds a few very subtle elements to showcase this special coffee as unique without losing it's luster as a distinguished example of the coffees of that region.

Aromas of fire roasted nuts and cocoa fresh off a great pour or brew yield to flavor notes of unsweetened chocolate, graham crackers and subtle nuttiness similar to roasted almonds and hazelnut.
We have searched for just the right farms to import from and after quite a long search are very happy to have found this excellent Chiapas. We knew when we started Vortex Roasters that we wanted to carry a high quality Mexican coffee and it has taken us months to find this exceptional one, and we couldn't be more elated.
Roast: Medium
Process: Washed
Varietal: Typica, Bourbon, and Catuai
Elevation: 1300m to 1750m MSL 
Grown as an Organic Single Origin, Strictly High Grown, European Preparation (hand sorted).
Imported under fair practice standards.