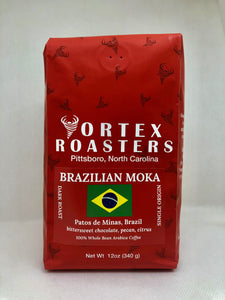 If we had to recommend a specialty single origin coffee that screams full body, decadence and big round flavors – it would be this excellent Moka (also spelled mocha, mokka, and mokha) from Patos de Minas in southern Brazil within the state of Minas Gerais.  The region is known for its highland agriculture with coffee being its second largest crop after corn.

A varietal originally from Yemen, Mokas have traditionally only been used in dark roast blends and classic Italian espresso blends, bringing forth those rich,  unsweet chocolate notes and mild earthiness.  But as the horticulture of coffee growing matured globally, so did the complexities and improving profiles of these coffees as growers utilized improving knowledge of specific coffee growing techniques.  As the beans from this region improved, the mokas began to evolve into exquisitely rich coffees fully capable to stand on their own.
As roasters we certainly take this bean on a journey, placing a moderately heavier roast on a softer bean (grown at lower elevations with high humidity), resulting in a gentle take on the traditional Moka. It's more than a little chocolatey, with a delicate acidity and full sweet body. We might even say this is luxurious.  This is a great coffee for those lazy, hazy weekend mornings as the sun comes up on the cool morning hours  or as a nice dessert coffee after a satisfying dinner.
Like a great hug, this coffee is strong and gentle at the same time.
Single Origin: Patos de Minas, Brazil

Roast:  Dark-ish
Process: Washed, Parchment Dried
Varietal: Yemeni Mokha/Typica hybrid
Elevation: 1000 - 1150 meters
Grown as single origin, European preparation (hand sorted)
Imported Under Fair Practice Standards and Price.