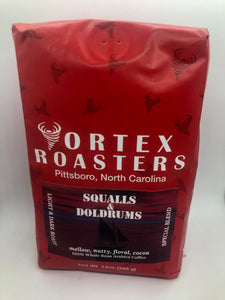 When a dark full bodied beer is poured over a lighter, brighter one, the result is a delicate balance of flavors and the famous "black and tan" draft. Our version embodies the same spirit, combining a rich, full-bodied dark roasted coffee with a sweet, clean, light roast in a blend that looks as exceptional as it tastes.  The resulting flavors bring the best of both coffees to the fore with plenty of roastiness and chocolate flavors that finish with a bright clean citrus note that is not bitter.  This has quickly become a favorite around the home office at Vortex Roasters for sure.  Cheers!
Process: Washed and Natural

Elevation: 1000m - 1500m ASL
Special Blend
Imported under fair practice standards.