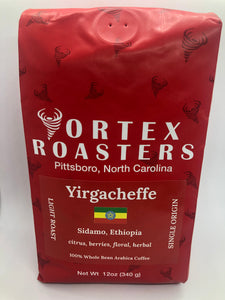 Grown at high altitudes in southern Ethiopia, this coffee has the reputation of being one of the best Arabicas coffees in the world and for good reason.

The sweet and floral aromas will jump out of the cup as your your first serving.  So many subtle bright and clean notes with mild black tea like flavors, tart citrus tones, berries and a gentle bitter finish.  The plush, smooth mouth feel is nearly velvety.
This particular coffee was the "gateway" coffee for one of our owners to understanding how great coffees can taste and how different coffee tastes can be.
Roasted: Light

Process: Washed
Varietal: Ethiopian Heirloom
Elevation: 1900m ASL
Ethiopian Coffees are regionally sourced by washing station/processing facility and single origin by region as most farms belong to small shareholder type cooperatives.
Imported under fair trade standard practices.