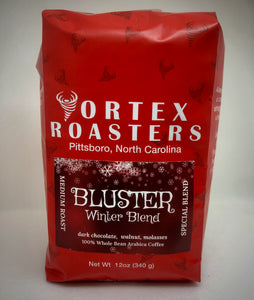 On occasion, we find a blend that brings to mind non-coffee things and memories; be that foods, special occasions and places.  This one jumped out at us, reminding us of the winter season and gatherings of family and friends.  This coffee hints of Ole Saint Nick with its round and full body combined with flavors of dark chocolate, walnuts, and molasses all tied up in a mild but bright citrus ribbon and bow. This is a wonderful preparation of beans for cooler and downright frigid weather, creating delicious early morning brews to warm up the effects of a morning nip, as an afternoon warmer or as an excellent pairing with rich seasonal desserts in front of a cozy fire. The perfect blend to share with friends and family this season.
Roast: A blend of medium and dark roasts (labeled as "Medium Roast")
Blend: High altitude South American, full bodied African and delicate fruit forward  Central American coffees.
Processing Method: multiple
Harvest: May to June 2023
Producers: Small lot farmers and co-ops.
Notes: Dark chocolate, walnuts, molasses and burnt sugars, tart orange
***Warning: May unexpectedly warm the hearts of grinches everywhere.