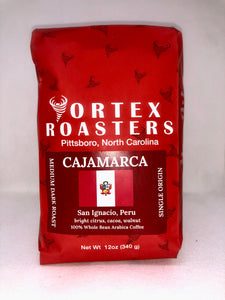 The Center Region of northern Peru have long been known for the exceptional coffees made more scarce in the years following a coffee plant rust blight in 2012 and 2013.  in recent years, the farmers of San Marco and Cajamarca have created a return to the tops of the coffee world with extraordinary coffees that exemplify this exceptional region.
The unique history of the region includes the ancient construction of breathtaking terraced slopes of the highlands and very mountainous terrain for growing produce as well as coffees believed first built out of necessity by the Incan empire and their immediate descendants in the 15th and 16th century.
Todays coffees in this region are dependent on cooperatives as there are very few large estate farms and the importers/processors rely on the harvests of small farmers and shareholder collectives, often with farms  smaller than 3 hectares in size.
In the cup, flavors of tart citrus and cacoa are present in the initial sip with the cacoa notes more presents as the coffee cools. A lingering nuttiness completes the cup with some tasters relating flavors of roasted walnuts and others a bit of a peanut brittle finish.  Many tasters note only a very mild acidity with some also picking up on subtle floral/herbal notes depending on your brewing method.
Roast: Medium Dark
Process: Washed
Varietal: Caturra, Bourbon and Typica
Elevation: 1250m to 1800m MSL 
Grown as an Organic Single Origin (not certified as such), Strictly High Grown.
Imported under fair trade practice standards.